The Wolf Run Trail runs 4.2 miles beginning just north of Dubois, ending 3 miles south of Brockway onto State Route 219. Owned by Headwaters Charitable Trust and maintained by Washington Township, this trail is a major section of a proposed trail extending from the Clarion-Little Toby Brockway trailhead to the city of DuBois.
Running parallel to State Route 219, this trail has been built on a former line of the Pennsylvania Railroad (Line 651) and runs from Sandy Township in Clearfield County (near Triangle Tech School in Falls Creek) north to State Route 219 at McMinns Summit.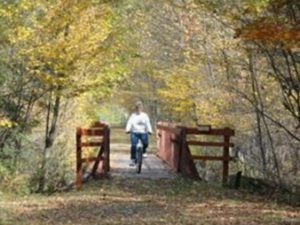 The trail surface is crushed stone. Parking is available mid-trail at the intersection of 219 and Old Grade Road.
The Wolf Run Trail is located primarily in Washington Township, Jefferson County, approximately one mile off Exit 97 of Interstate 80 just outside the Borough of Falls Creek. Formerly the Buffalo, Rochester and Pittsburgh rail line, the trail is a scenic walking and bicycle trail through which Harvey's Run and trout-stocked Wolf Run meander. There are four bridges which cross over bubbling streams. Wild turkey, deer and small game abound. Though the trail is a peaceful 1-1/2 hour stroll you are never far from US Route 219 which generally parallels the trail.
The south access is at Tannery Row, from I-80, US 219, then PA 830. The middle of the trail is just off US 219, from Low Grade Road, which is directly across from the access road to PA Game Lands #77 at Clear Run. The North access is from US 219 at McMinn's Summit. There are three parking areas with ADA access.
Come and enjoy the natural beauty of this trail! Volunteers who want to help beautify and maintain the trail are welcome, working on your own schedule. Call 814-371-4276 or send an email to [email protected]