This trail is under construction, watch out for rough terrain, hazardous areas and trespassing ATV's.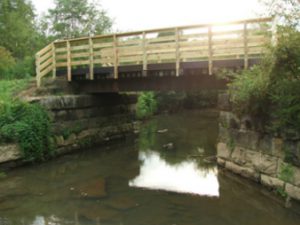 In 2008 Tricounty Rails to Trails acquired the right-of-way for the Five Bridges Trail, which uses a portion of the former Shawmut and Pittsburgh Railroad corridor which ran from Brockway to Brookville.  It starts out with several narrow cuts through shale hillsides and then it traverses a low swampy area as it runs along Mill Creek and crosses it with five bridges.  The trail begins about one mile outside of Brockway and runs for 8 miles to Allens Mills. Beavers have made dams along Mill Creek and today it is a scenic wetland area with many species of birds ranging from Grouse to Great Blue Herons inhabiting the area.
The corridor continues all to Brookville, and we are working to acquire a right-of-way on that portion.  This would allow our trails to connect to the Redbank Valley Trails, a network of 51 miles of trails which connect to the Armstrong Trail (part of the Erie to Pittsburgh Trail which is in various stages of construction).  From Pittsburgh, users will be able to connect to the Great Allegheny Passage Trail, which runs 141 miles to Cumberland, Maryland where it meets the C&O Towpath which runs 184 miles to Washington, DC.
When all these trails are complete it will be possible to ride from Ridgway to Washington, DC or Erie.  This combination of trails will allow rail-trail voyagers to make us their destination which will have a positive effect on our area's economy.  These trail users will need lodging, food, and supplies while on the trail.  Additionally, studies have shown that people who are introduced to an area on a Rail-Trail trip often come back by car on a future vacation to fully explore the area.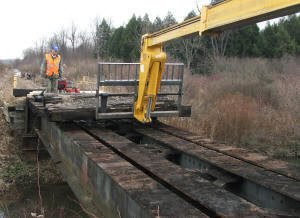 We are pleased to announce that after much planning we started work on the Five Bridges Trail in the fall of 2012.  Number one on our list were the 5 bridges which cross Mill Creek. In October of 2012 the Stella-Jones Corporation donated 95 railroad ties to be used in rebuilding the bridges and in December Apple Tractor of Brockway donated use of a telescopic forklift which allowed us to replace the rotten ties on all three bridges.  Thanks to these donors and over 75 hours of volunteer labor we were able to remove 79 rotten ties and install 127 new ties in 5 days!